Lewis Celebrates Diverse Campus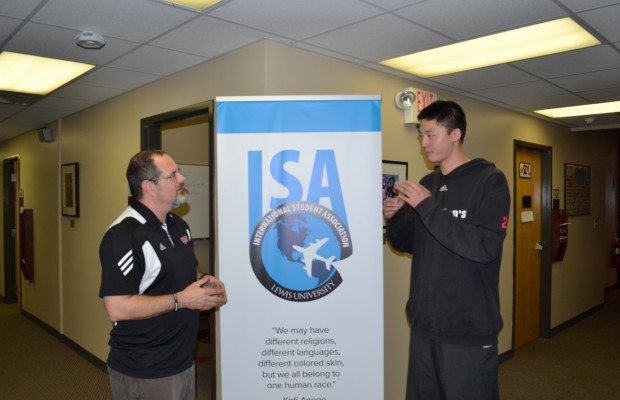 Photo provided by Alex Veeneman: Senior aviation management major Yiwei Zhou and International Student Services director Michael Fekete discuss the International Student Association.
Brent Sumner, Tempo Editor
Lewis University will be kicking off its International Education Month on Oct. 28 in hopes of bringing staff, faculty and students together in celebration of its richly diverse background.
Starting at the end of last spring semester with a small committee chaired by Michael Fekete, director of International Student Services, the group planned a month-long event over the summer to celebrate the rich diversity on campus.
"For the past seven years it was only International Education Week," Fekete said. "This has taken off from what is typically a week started under the Clinton Administration and the U.S. State Department in 2000."
The month will kick off on Monday, Oct. 28 with an international student mentor program case study and a look into the journey of an international student, and on Wednesday, Oct. 30, there will be a showing of "A Better Life," a Spanish foreign film.
The last event during the first week will be the highly anticipated International Food Festival featuring Andean Music Group, Ancestral Roots.
"I am looking forward to our famous food fair, which is always a big hit," said Tatiana Lima Machad, Lewis graduate assistant. "I also am looking forward to the event entitled 'Colorism in Africa and America: Skin Tone and Appearance Controversy'. I believe that in order to overcome stereotypes and bias, we need to talk about issues, no matter how uncomfortable they are."
Each week is divided into separate areas of the world, with the Americas being the first week, Asia the second, the Middle East and Africa the third and Europe the last week of the month, which will wrap up on Nov. 21.
Along with all of the cultural insights into other areas of the world, Fekete has also arranged with Dr. Frank Rose of the business department to organize a schedule of speakers for topics in international business.
"It is important for students who are planning to work in the business world after graduation to have a good understanding of the cultural, social, political, legal and economic environments in countries outside the U.S.," Rose said. "Each speaker is very knowledgeable on the country he will discuss, and will be able to draw from extensive personal experience."
The topics for the business side of International Education month will deal with doing business in Japan, Turkey, Palestine and South Korea. Each business topic will be held on Thursdays starting on Oct. 31 from 3:30 to 4:30 p.m.
The International Initiative Committee is looking forward to the month kicking off, as well as being able to educate students on the cultures around the world.
"All departments have been actively engaged in order to make this month the best it can be," Machado said. "In the end, it is all worth it. As staff members, we feel honored and profoundly blessed to share our gifts with the community. We hope our effort can touch everyone attending and have a positive impact on them."
The full schedule of events is available on the Lewis website, along with a description of what will be presented at each event.