Eating with Brent: Baby Back Blues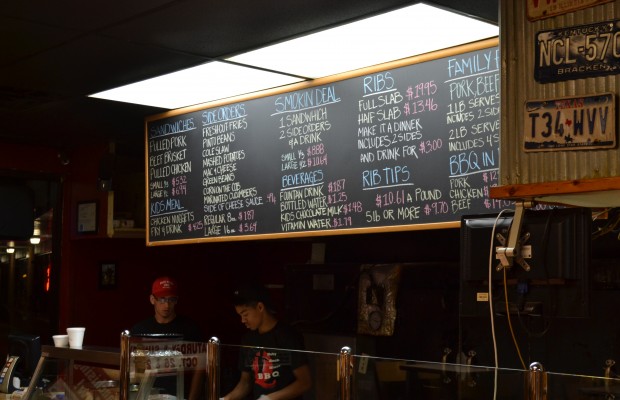 Photo courtesy of Brent Sumner: Located about 10 minutes from Lewis, Baby Back not only offers great food, but it's affordable for college students looking for some great eats.
Brent Sumner, Tempo Editor
About 10 minutes from school (just a short drive down Renwick and then a left on Route 30), there is a little hole-in-the-wall restaurant located inside the Lilly Cash Plaza called Baby Back Blues.
Baby Back Blues has been around for a little less than 15 years, serving their pulled pork, beef brisket, ribs and pulled chicken. Ken Faught started the place when he sidelined his career of being an engineer to become the barbecue king of Plainfield. It has paid off for Faught, who has won various awards for his ribs, as well as local recognition with radio station 98.3 WCCQ. Baby Back Blues has even been featured on "Chicago's Best," which is a show that finds exactly what the title says, the best around Chicago.
On the menu, Baby Back Blues offers plenty of sides, entrees, desserts and deals to make the trip to the restaurant well worth it. One of the most popular orders that the cashiers hear is the "Smokin' Deal", which consists of either a 1/3 pound or 1/2 pound pulled pork, beef brisket or pulled chicken sandwich along with two sides. Sides consist of marinated cucumbers, mac and cheese, fresh-cut fries, green beans, coleslaw, pinto beans and corn on the cob. The price is also appealing; depending on the size of the deal you get, the price is usually less than $10.
The fact that the food is served on Styrofoam plates doesn't take away from the fact that it's delicious. With no effort to appeal to other senses, all of Baby Back Blues' work goes into creating mouthwatering dishes. All of their pork is smoked to perfection, giving the perfect smoky taste.
Plain pulled pork not for you? Baby Back Blues has various BBQ flavors from the vinegary Carolina sauce to the normal hot and mild sauces that customers can put on their own sandwiches.
For sides, a recommended favorite is their fresh cut fries. The fries are perfectly salted, not too greasy and come piled high all over the plate covering the sandwich and other sides. The pinto beans are also a fan favorite, complete with the pulled pork simmered in with the beans giving off that well-known smoky taste. They are even better with a little barbecue sauce added right on.
If there is any room leftover after the huge side-sticking meal, Baby Back Blues also offers their super moist chocolate cake. If possible to eat, definitely try the cake, you won't be sorry.
The 15th anniversary for Baby Back Blues will be on Oct. 26 and 27, offering a better time than ever for anyone questioning whether they want to make the drive to the restaurant. During their anniversary, Baby Back Blues will be offering a buy one get one free deal on their pulled pork sandwiches, which is a very inexpensive way to try their delicious sandwiches.
Baby Back Blues is open from 11 a.m. to 8 p.m. Sunday through Thursday, and 11 a.m. to 9 p.m. Friday through Saturday. Make the drive to Lilly Cash Plaza and try the food. After all, their tagline is, "It's all good, cooked on wood."