Australia Bush Fires Menace New South Wales Homes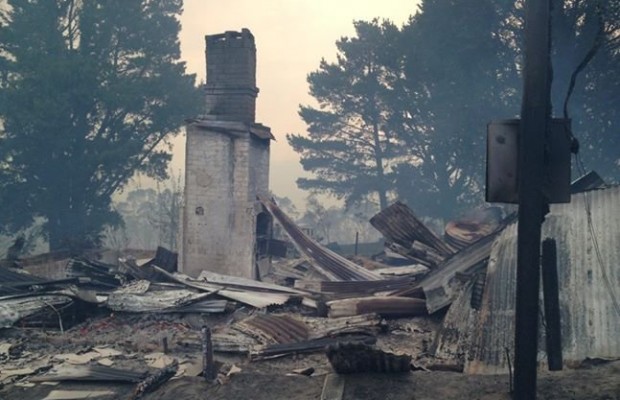 The New South Wales Rural Fire Service released photos of damage from wildfires on October 17, 2013 via their twitter page.
Laura Smith-Spark, CNN Wire
(CNN) — Firefighters fought scores of bush fires blazing in Australia's New South Wales early Friday.
Some are burning in the Blue Mountains, a World Heritage area to the west of Sydney, sending thick plumes of smoke into the air.
Firefighters were battling 98 fires across New South Wales as of late Thursday, according to the state's Rural Fire Service. Earlier Thursday, the fire service tweeted that 34 blazes were still out of control.
More than 100 firefighters were battling flames in Heatherbrae, where one fire has so far destroyed 3,500 hectares (8,649 acres), the service said.
New South Wales Premier Barry O'Farrell warned at a news conference Thursday that hundreds of homes could be destroyed by the time the crisis is over.
He paid tribute to the efforts of the emergency responders battling the flames.
"Today's conditions, both the hot, dry conditions but also the wind conditions, have contributed to the difficulties faced by firefighters and communities on the ground," he said.
"This difficult, damaging and dangerous day and these conditions are not going to be over quickly," he said. "Weather conditions are changing. It will take some days to see the end of these fires, and I suspect if we get through that without the loss of life, we should thank God for miracles."
Footage broadcast by CNN affiliate Seven Network showed flames consuming homes.
The New South Wales Rural Fire Service has issued emergency warnings for the most risky situations.
They include the State Mine Fire, a large bush fire moving from Lithgow toward Bilpin, in the Blue Mountains, which has burned more than 20,000 hectares (more than 49,000 acres) of bushland, firefighters said.
Another blaze threatens homes in the Springwood area of the Blue Mountains.