Bag it: NFL's New Bag Policy has to Go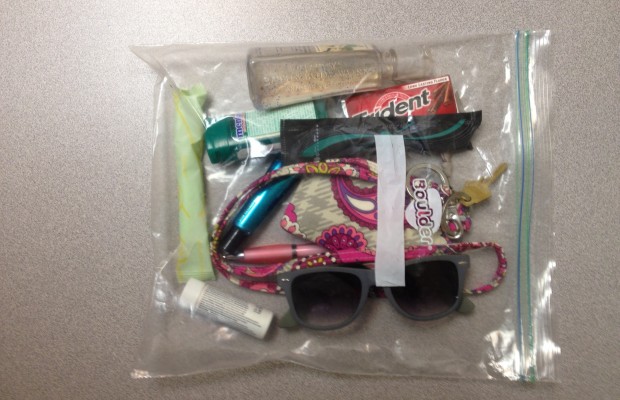 The new policy might protect an entire stadium but fails to tackle each individual's privacy.
Photo provided by Lauren Barnes
Kristen Fazio, Contributor
Hey, ladies: Don't bring your brand new Louis Vuitton bag to the game on Sunday; you may be told to dump it in a nearby trash can.
This is the harsh reality of the NFL's new bag policy they decided to implement in all stadiums this season, meaning you cannot bring any bag into the stadium unless it is "clear plastic, vinyl or PVC and does not exceed 12" x 6" x 12", or a one-gallon clear plastic freezer bag (Ziploc bag or similar)" much to the disgust of its fans, especially women.
So not only do we need to walk through metal detectors (and in some stadiums, wait in line to be individually checked by hand-held detectors), now we can't even carry the bag we want.
I understand the goal is to keep everyone safe in the wake of the Boston bombings, but it seems the NFL has taken it a little too far.
The opening week started off horribly. People were being turned away at gates and were told to take their bag back to the car, discard it in the trash or not enter at all. (Some teams like the Minnesota Vikings were kind enough to provide a bag check at no extra charge.)
Now you have a bunch of men taking the walk of shame, carrying their significant other's purse back to their vehicles and trucking it back to the stadium to arrive in time for kickoff.
Oh, and get this – at Washington Redskins games, fans were forced to hide their purses and bags behind trash cans or under media vehicles because they took public transportation to the game and had no car to return to. Isn't a person leaving their bag in random places a little bit scarier then the possibility of a threat?
What about people who have small children with them? There is no way they will be able to fit everything they need in a bag this small. Or how about the handicapped; do they really want to carry around their medication in a clear bag?
Women don't want you digging around in their purses. Men know this, so what makes you think they want to carry around a see through bag with all their lady products in it? Fans will now be toting around their wallets, money, car keys, sunglasses, smartphones and tickets in Ziploc bags for all to see.
Now, let's say you've finally made it into the stadium (with your stylish Ziploc bag in tow, of course) and you are finally seated…your team scores a touchdown, and you leap out of your seat to celebrate. But, you have your phone in your pocket (because you don't have a bag,) and now your phone hits the concrete ground, causing it to break.
It is a major inconvenience for all, not just women, and it's going to take some getting used to. So, pack a baggie; it seems like this "all clear" policy is here to stay.