Residence Life Sees New Faces on Campus this Semester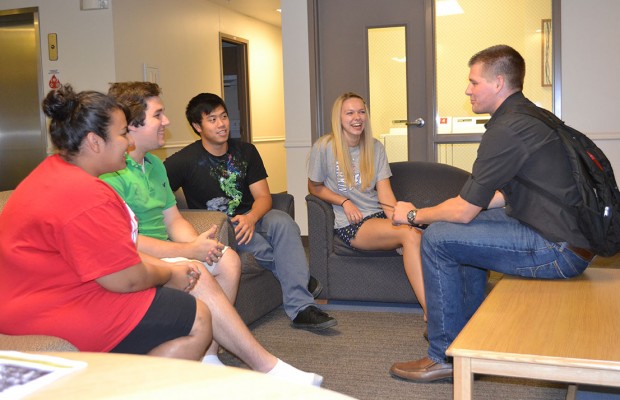 Resident Assistant for Dorothy Day Hall Justin Lewis creates a sense of community among his residents after doing nightly rounds on Tuesday, Sept. 17. From left to right: Graduate assistant Sophia Barakat, senior Anthony Lyen, senior Selwyn Hansana and junior Kimbra Runyon.
Brent Sumner, Tempo Editor
Alyssa Cicero, Copy Editor
Nicole Kappelman, Assistant Sports Editor
While residents settle into their new dorm rooms for another year at Lewis University, there are several new faces helping students feel welcome. After a lengthy application and interview process, the Office of Residence Life at Lewis hired 16 new Resident Assistants (RAs) for the 2013-2014 school year.
"[We had] quite a bit of applications," Residence Life Coordinator for North Hall Stephen Loza said. "We always get quite a bit of students who love to apply to become a RA." The 16 new RAs make up over half of the 30 person staff for the school year, according to Loza.
In order to become a RA at Lewis, students have to go through a detailed application and interview process. After students fill out the application, which includes a resume and two letters of recommendation, they are reviewed by the full-time staff in the Office of Residence Life. From there, students go through three rounds of interviews, only progressing to the next round if the staff feels they are qualified.
The rounds of interviews allow the staff to observe applicants in different situations and assess their leadership ability, among many qualities. Loza listed honesty, responsibility and determination as some of the skills the staff looks for when interviewing.
The Resident Assistant page on the Lewis website notes that students must maintain a 2.5 cumulative GPA, take between 12-18 credit hours a semester and receive approval for all extra-curricular activities along with additional employment.
"Many people interviewed for these positions, and [it was] definitely a bit overwhelming to think that all these other students are basically competing against you for an interactive role," senior aviation administration major and new RA Alexander Heaney said of the interview process. "I just figured I would stay confident and keep positive."
Once students have completed the interview process and are hired, they move in to school early in the summer to go through training. While new RAs are assigned a residence hall, those who reapply and have been a RA previously turn in a list of halls they have ranked to determine where they would like to be.
According to the Residence Assistant page online, RAs build community within the hall they serve through programming, student interaction and upholding community standards. In order to create that sense of community in their halls, RAs are required to organize four separate programs a month, and there are also meetings every month for the entire staff to get together and discuss ideas and issues they may have.
"This semester, I am looking forward to many programs we have with our residents, some of which include ice cream socials, capture the flag, and barbecues," Heaney said. "Many residents love to go to events that offer free food, and we are here to help fulfill that passion."
One of the new RAs in Founders is Brittany Hansen, who became a RA simply because she "loves helping people."
"I felt like doing something on a smaller scale, such as being a RA, will prepare me for future leadership positions, Hansen said. "I also really liked the idea of being a part of the ResLife family here at Lewis University."
Even though the new RAs enjoy their jobs, they have found some difficulties. RA Susan Thomas agrees that it isn't always easy being the authority figure in the dorms.
"It's always difficult to knock on the doors of your friends, but you always hope they understand that you have a job to do," Thomas said. "Besides that, it's difficult to manage being an RA while going to school, being on the women's soccer team, having a boyfriend, hanging out with my friends and contributing to Delta Sigma Pi."
Although applications for the next school year are not available yet, students can expect to find forms in the Office of Residence Life located inside Student Services come November. Applications will be due the week of finals. For more information on how to become a RA, visit the Resident Life page on the Lewis website.