Club Sports Spread Lewis' Recruiting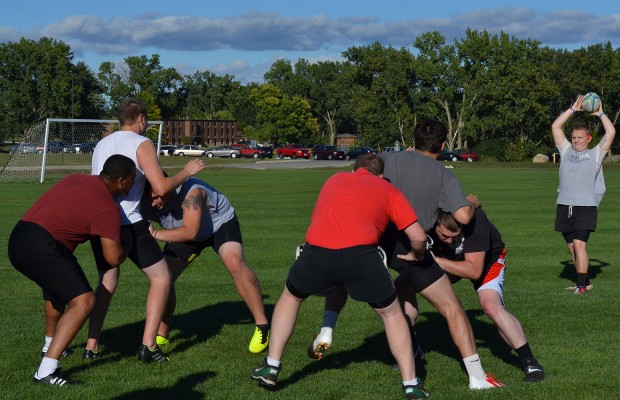 After the men are settled in their spots, junior aviation major Steve Quast prepares to launch a ball in the air.
Dave Hansen, Online Editor-in-Chief
Kyle Hayes, Contributor
Fitting in on a college campus and staying in shape with a hectic schedule isn't always easy. Club sports make killing those two birds with one stone possible.
"Students are able to connect with one another through club sports," said Lewis University Director of Student Recreation Jill Siegfried. "Teammates become your brothers or sisters, where you create a special bond. If you're a freshman, it might help you transition into feeling better about the university."
Club sports have become quite popular at Lewis. Five years ago the school only had two teams, while there are up to 11 of them today including men's and women's lacrosse. These teams join an organization that's connected to other local universities, and the teams will travel as far as Ohio to compete. Getting all of this to align can be quite a bit of work, which is why a club sport's president is relied on heavily.
"I'm the person that oversees sports and all the information," Siegfried said. "But the students actually run the clubs by themselves. They work on the schedule, make sure the referees are there and do all the bills that the clubs receive for buses and hotels."
Costs of a club sport range widely, as they're normally around the $300 range for basketball and volleyball, yet can go north of $2,500 for hockey. All of these fees are covered by the school, though, with Lewis asking that students who want to join club sports have health insurance along with a GPA of at least 2.0. Club presidents have a budget of up to $6,500 per year, including travel, jersey and coach fees.
"The first time I came out here, they were kind of just running around and not doing any drills," said club rugby head coach Tim Hower, who is also a graduate student at Lewis University. "So I just took the bull by the horns so to speak."
Although being a part of a club sport is a commitment, all of those involved realize that school comes first. It is not like NCAA athletics where participants can give notes to their teachers and be excused from class due to a practice or game.
"It doesn't really alter my studies," said club rugby member and senior aviation major Eric Schuler. "We all try to work around it, but if you can't make it, you can't make it."
Since adding club sports to the school, Siegfried says Lewis is being looked at by students from five or six states that normally wouldn't have looked at the university. Some individuals have even told her that the main reason they chose Lewis was due to the fact that the school had a club hockey team. However, club sports are bringing in students even further than state distance.
"I saw fliers everywhere, and I wanted to get more involved in the school," said junior psychology and human resource management major Amas Amees from Iraq, who "is one of four international students on the rugby team. "So far, it's been a great experience."
The best time of the year to join a club sport is right now, according to Siegfried, as teams are becoming organized and ordering jerseys. Albeit, there will be new sports being rolled out in the beginning of spring, so that may be a student's next best option.
If you or someone you know has interest in joining or starting a club sport, you can contact Siegfried at 1-815-836-5277 or siegfrji@lewisu.edu.