Birthday Bash Promises To Take The Cake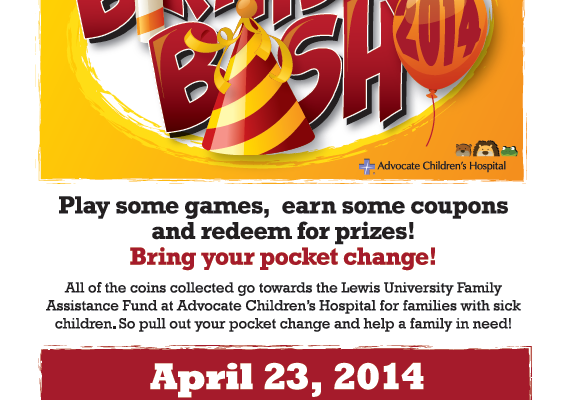 Roslyn Summerville, Assistant Tempo Editor
Get ready to put your party hats on because Lewis is hosting Coin-A-Palooza at its 2014 Birthday Bash celebration.
There will be a variety of food and activities, as well as a large birthday cake.
The food will be served during normal dinner hours; all other dining facilities will be closed.
According to the campus events page, the Birthday Bash is something that "no Lewis student should miss!"
"I've never been able to make it to any of the other ones, but this time I get to go, so I'm pretty pumped," junior aviation administration major Ben Schmaltz said.  "I hear lots of things about the party being fun, so I can't wait to see for myself what all the hub bub is about."
It comes around every spring semester, with events like student band performances, caricature artists, t-shirts, carnival games and various contests.
And on top of all that, the Birthday Bash is a fun way to de-stress from the end-of-semester chaos caused by tests, essays and projects. There is also a way for all who attend to help out children who need some extra help.
We all have that loose change at the bottom of our wallets, and a great way to put that extra change to good use is to bring it to Lewis' Birthday Bash.
All of the money earned at the event is going to go to the Lewis Family Assistance Fund at Advocate Children's Hospital for families with children suffering from various illnesses.
"I think that it's a good idea for Lewis to do [the Coin-A-Palooza]," Schmaltz said.  "It's a great way to have fun with everyone, and then we all get the opportunity to help some kids who could really use our help."
So, make sure to come out on April 23 from 4-6 p.m. at the University Green to play some games, win coupons, get prizes and support a good cause.
In case of rain, the Birthday Bash will be moved to  inside the Student Rec and Fitness Center.