Artwork from Behind Bars Inspires Discussion on Restorative Justice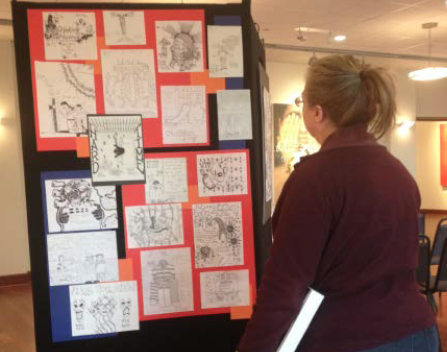 Donna Johnson appreciates numerous pieces of prison artwork in the Wadsworth Family Gallery.
Theresa Marten, Religion Editor
The latest Peace Teach-In through Arts and Ideas focused on "Transformative Justice in Prisons and Communities. Alongside November's month-long art show in the Wadsword Family Art Gallery, from late morning on Nov. 3 to Nov. 5, various examples of art created by prisoners while incarcerated were displayed for educational and reflective purposes. The artists express angst for being locked up, love for close friends and families on the outside and other eternal questions, which confront all of humanity.
The gallery was supplemented with a discussion on juveniles sentenced to life without parole and restorative justice healing circle facilitated by Fr. David Kelly. In addition, Lewis's very own Dr. Christie Billups, Asst. Professor of Theology, Director of Pastoral Ministry and Coordinator of Service Learning, shared her expertise about restorative justice and its applications, advantages and possibilities for prisoners, victims of crime and communities affected by crime.
Common themes throughout the art were choice, regret and appreciation for those once or still in their life. The art ranged from sketches to paintings and integrated prayer, gang references and life within the prison.
"The art opened my eyes to the emotions that the prisoners feel that we don't think about like missing family, regrets about choices and feeling like they don't belong in society," said junior theology major Kaitlyn Sendzik.
One of the artists displayed and given a mandatory life sentence without possibility of parole is Adolfo Davis. Arrested at age fourteen, Davis now seeks to make a difference in the lives of the youth even from his prison cell, by sharing his story and experience. Through art, he wants to show that the streets are not the answer.
Billups confronted issues such as the lack of voice victims have in our criminal justice system. "The entire prison setting is structured to dehumanize offenders," said Billups. "The system discourages the processes of reconciliation."
Reconciliation is one of the primary goals of the healing circles. An ancient indigenous practice, healing circles are formed and facilitated in communities. While in a circle, all are equal and there is a talking piece so that all can be heard and while the rest of the group truly listens and is engaged. All circles have established values such as understanding, trust, love and confidentiality. All values must be maintained so that as a group people can be honest but also not afraid of possible consequences if a comment is shared outside of the circle.
Restorative justice practices often include healing circles and can bring more holistic healing to those affected directly or indirectly by harm in the world. There were 12 participants in the healing circle during the Peace Teach-in.
"The healing circle made me feel empowered about changes that I could possibly help to create in the justice system and it was cool hearing other's honest opinions on the issues as well," said Sendzik.
Billups discussion called for a new focus for crime and justice that refined what punishment should really look like. The United States has the highest percentage of incarcerated people and there are more young black men under criminal justice jurisdiction than in our colleges and universities. With statistics such as 1 in every 142 U.S. residents in jails, it is obvious that there are major changes needed.
"Restorative justice is a paradigm shift in our thinking. Right now we are all about locking people up, warehousing and making sure they pay for their crime, but I think it's short sided," said Billups. "We need to see the big picture and what's best for everybody. Leaving victims hanging for years on end without giving them any sort of healing process is not good for them and just warehousing people away from their family support systems are the ways they might turn their lives around is not good for them. What's best for everybody, what heals communities and what brings people to a better place collectively is what we should be doing."
These issues are longstanding and affect not only men and women in the prisons, but the communities outside especially their families. As usual, the Peace Teach-in gives Lewis food for thought on how as a university we can contribute to a more peaceful world.