Alex Thode Wins GLVC Title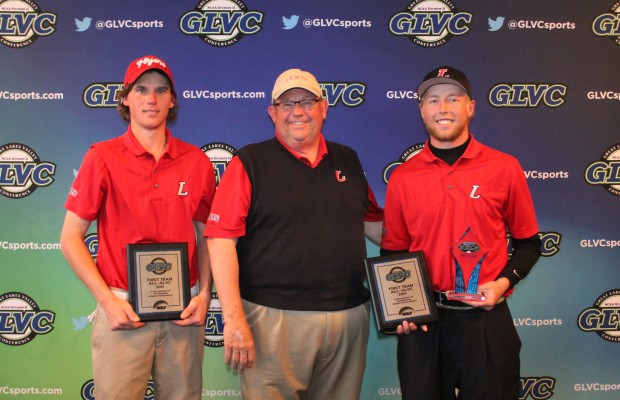 Alex Thode won the individual championship at the GLVC Championship. The team finished second overall.
Ryan Lange, Contributor
The Lewis men's golf team had a minor stumble in what was previously a stellar season when they returned to action April 3-4 at the third regional tournament of the season, the Jewell at the Elks Run Golf Club.
The Flyers finished sixth of the 27 overall teams at the tournament, with a two round overall score of 585. The Flyers ended up being just five strokes behind the first place Indianapolis, who won the event after shooting a 580.
Junior Alex Thode tied for fifth individually with junior and fellow Flyer Robert Dofflemyer III after they both attained a score of 143.
Thode shot a first round score of 73 and a second round score of 70. Dofflemyer finished with a 71 after the first and 72 after the second.
Senior Ryan Frederick improved his first round score of 74 by one in the second round to give him a total score of 147, which was enough to tie for 28th in the individual performance category.
Freshman Austin Buente scored a 76 for both rounds, scoring a 152, which got him 69th place in the overall tournament.
Senior Jeremy Fraser rounded out the Lewis starting five. He shot a 79 at the end of the first round and then improved his second round score by two for an overall score of 156, which resulted in him tying for 109th place.
Following the stumble, the men went to regroup and perform at the GLVC Championships held at the Prairie View Golf Club. The team did just that, taking second place in the match play portion of the tournament and having Thode win the individual stroke play portion.
Thode dominated the field, winning by nine strokes in the three-round tournament, scoring a two under 214. The performance also gained him an All-GLVC selection, an award shared with him by Frederick.
The men took the No. 1 seed following stroke play based on team performance. In their first match-up, they disposed of No. 4 Illinois-Springfield, winning three of the five matches. The team needed Thode, who was playing in the fifth and final position to defeat his opponent, which Thode did.
The championship match pitted the Flyers against UMSL, but the Flyers could only win one match, tying two spots. Due to these finished, the team lost 3-2, giving them a second place finish.
Early May brings the Regional Tournament, and the end of the season.