African Rhythms Have Students Dancing to Their Own Drum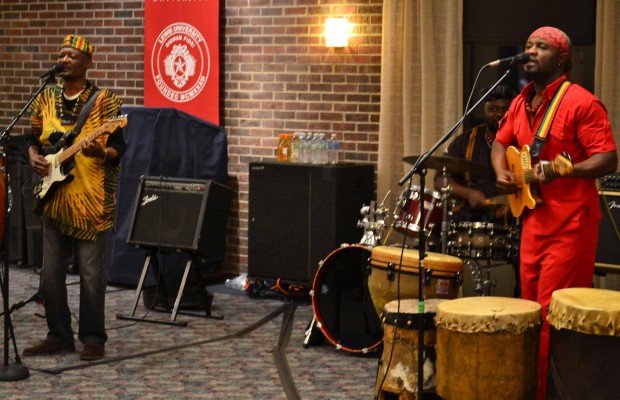 Photo provided by Hanna Frank: Jabali Afrika performs their own compositions of African beats and rhythms.
Lauren Grady, Assistant Tempo Editor
They got students off their phones and onto their feet, dancing to the rhythm from the beat of their drums. They wore dresses and hats of beautiful colors and sang in melodies that were even more amazing. They made an otherwise normal Tuesday night at Lewis into one filled with laughter and memories.
Who are these wonder men? Their names are Justo Asikoye, Joseck Asikoye, and Henry Tauasli and they are "Jabali Afrika," a group of men from Kenya and East Africa. Jabali is Kiswahili (Kenya's national language) for "Rock". The group played original compositions and traditional African rhythms that came alive for the audience as they performed their native music in honor of International Education Month here at Lewis.
They've been in 48 of the 50 states, playing their music all over the country. Tanalsi strums the guitar, while Justo plays the bass drums and guitar as Joseck beats the drums. They play their euphony with smiles on their faces and friendliness in their voices, as they called on students to come center stage and show off their own moves.
"My favorite part of this whole thing is the interaction between different cultures," said Justo. "We come together for one thing; we don't separate the people, we sing and dance as one party. That's what Africa's all about, togetherness, and it all starts from the music."
And that's exactly what they did. In the hour that they had the floor, they got students and adults alike to go up and show off their stuff, dancing, singing and playing the drums. Everyone left more cultured and with a better appreciation for the rich cultures of Africa and Kenya alike.
"This was one of the most interesting events I've been to, because I felt directly involved," said sophomore Megan Szubert. "I loved how they included us in the music and dances and everyone left with a better appreciation for the Kenyan culture."