A Bump in the Road for the Sox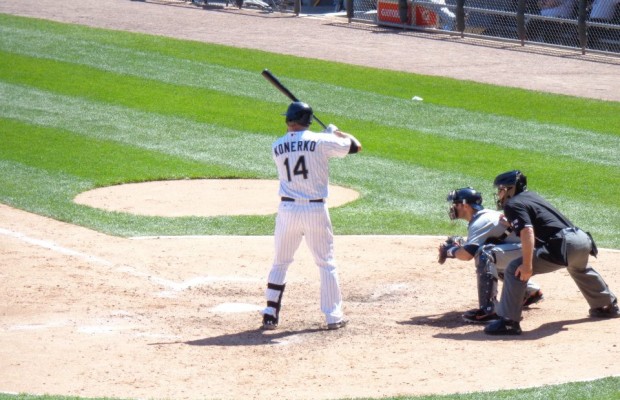 Paul Konerko, 37, is getting up there in age, and his decline in play has been a factor in the White Sox's poor season.
Image from Wikimedia Commons.
Nicole Kappelman, Assistant Sports Editor
When former Chicago White Sox player Robin Ventura came on board as manager in 2012 to take over after the horrible job done by former skipper Ozzie Guillen, the future seemed bright for the Sox. And it was… up until this year.
Now, with the 2013 season coming to a close, the Chicago White Sox have accomplished one thing this season: successfully obtaining a losing record.
The Sox have not only succeeded in losing, but plummeting ticket sales as well. It seems that no matter what efforts are made, fans cannot be attracted anymore. Add that problem to an unsuccessful and unsatisfying season so far, and the future looks a little unstable for now.
Being a Sox fan, you can imagine my frustration as my team seems to be continually failing this year, both on and off the field. Despite players being added left and right, hope for the younger generation seems somewhat unknown. The most recent additions and departures have proven that an inconsistent lineup is evident both in the field, on the mound and at the plate.
Fallen expectations and disappointment led to the trade of pitcher Jake Peavy to Boston.  Add in the loss of outfielder Alex Rios, and it's become clear that at least a semi-rebuild has begun for the South Siders.
Not only have they lost players to other teams, but it seems a couple have been lost to old age as well. Don't get me wrong, Paul Konerko is one of my favorite players on the team and has been ever since I was a little girl. After the 2010 campaign, Pauly sported a .310 batting average and since then, his average has continued to sink, being just shy of .250 this past season. Now, maybe it's been just a little speed bump, as every player seems to go through that, but if you ask me, it appears age is beginning to catch up with the cleanup hitter. At 37 years old, Konerko is the last remaining player from the 2005 World Series team. He has not only been the image for the Sox, but also a staple to the team. As a captain and one of the key players in the lineup (usually), it seems this year did not go in Pauly's favor unfortunately, and as he has declined, so has the rest of the ball club.
The second player on the decline, or at least one who has been since he arrived in Chicago, is Adam Dunn. After 13 years in the MLB, Dunn's most impressive (or not so impressive) number seems to be the amount of strikeouts, which stand out from all other statistics in his career − 2,193. That's almost twice the amount of hits he's accumulated. Just for reference, Konerko only has 1,327 strikeouts after 17 years of playing; what a difference between the two power hitters. One might wonder how Dunn has not only stayed on the team, but just in the league for so long.
It's so bad, in fact, that when I was at a game over the summer, not only were the Detroit Tiger fans predicting what the outcome of Dunn's at-bat would be, but he even had fans from his home team rooting against him and booing him. Needless to say, he doesn't appear to be a Chicago favorite, or anyone's favorite for that matter. The fans' reactions and opinions don't seem to bother Ventura, though, as he has not given up on Dunn and continues to put him in the lineup and at first base.
The one thing going for Dunn, however, is his slight improvement this year, which has actually been one of the few positives for the Sox in 2013. He has significantly decreased the number of strikeouts he had from last year, going from 222 strikeouts in 2012 to just 162 so far this season. I think most would vouch that he's gotten better. While this seems like a personal goal for Dunn, one conclusion can be made by Dunn's progress: The number of strikeouts have lessened, and remarkably, his batting average has gone up from .204 last year to .224 this season. Not a huge improvement, I know, but hey, it's better than nothing.
The only other positive for the Sox this season has been the influx of younger players.  The hope for the new and promising talent seems stronger than ever, at least for me. It seems that at this point any new ideas and talent the Sox can get would be just the smallest step in moving forward.
One bright spot has been the youngster acquired from the Peavy trade with Boston.  Avisail Garcia, a player considered to be a "jack-of-all-trades," is a rookie who has performed bconsistently in every game and is currently sporting a [insert BA] batting average in just [insert number of games] games played since being acquired by Chicago.  It seems that (fingers crossed) the addition of Garcia will be the future for the Sox, and he is clearly something they really need right now.
Despite a couple of positives, this season hasn't exactly gone the way that Sox fans had hoped it would.  One bad year won't keep away fans, though, and while everyone dreams of making it to October, it sadly isn't in the cards for the Sox this season. Then again, it's still better than being a Cubs fan and the continuous disappointment they've been faced with for the past 104 years.